AMFA Local 14 Elections: Call for Nominations - 2024 Vacancies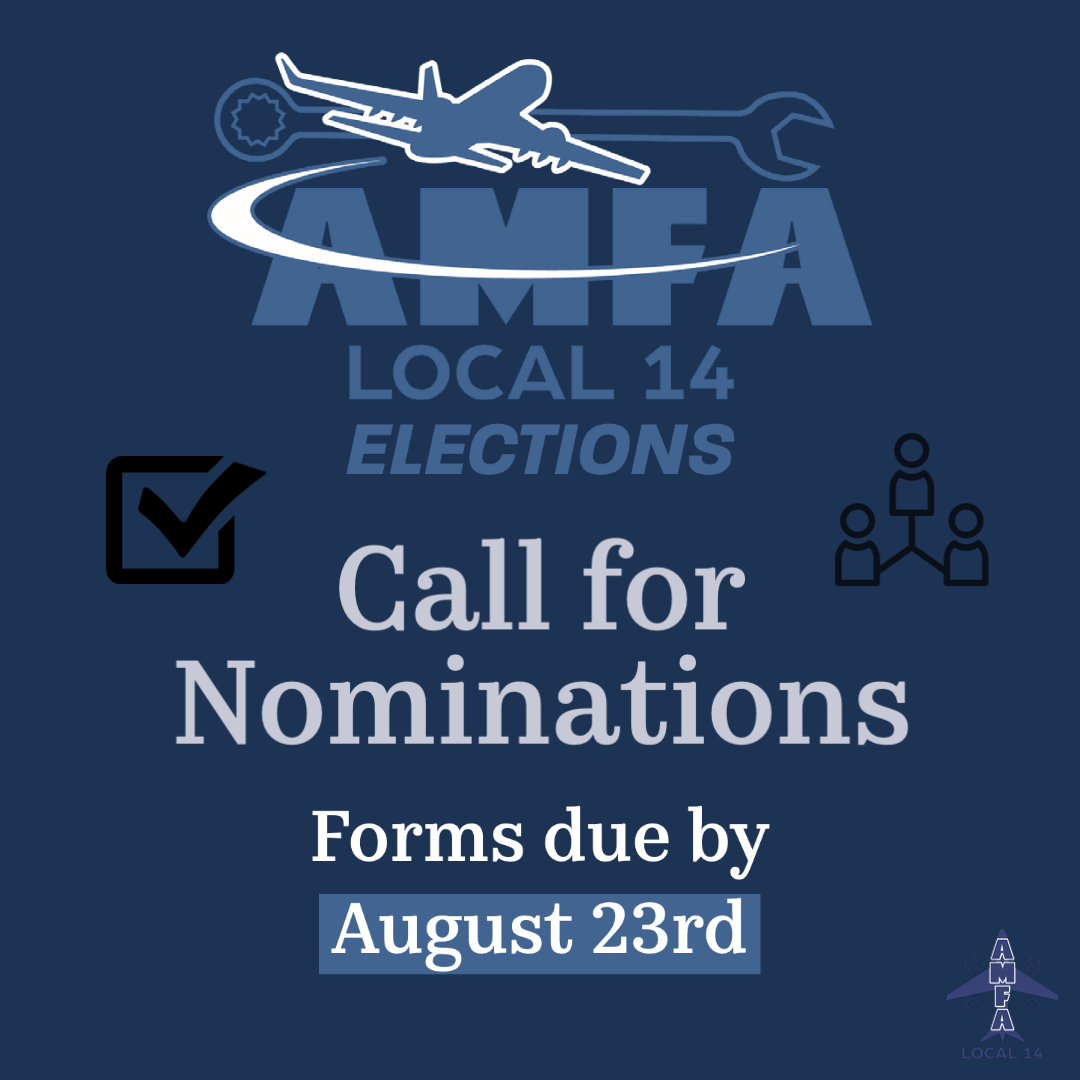 AMFA Local 14 is accepting nominations for the following 2024 vacancies:
Local Executive Council Officers
Vice President
Treasurer
Safety & Standards Chairman*
Airline Rep and Contract Committee
ASA - Airline Representative (ALR)
QX - Airline Representative (ALR)
ASA – One Contract Committee Member (ACC)
Other Available Positions
Auditors – 3ea (1 year term)
.
---
---
To nominate a member or yourself, please complete the online digital nomination form (clickable QR Code) OR complete the "Print-Out" nomination form, available on www.amfa14.org. Nominations must be electronically submitted or completed in writing and sent to the Local 14 Secretary no later than 1:00 PM, (PST) August 23rd, 2023. Unless notated otherwise, all open vacancies will operate in two-year terms of service. The terms for these positions will commence upon their swearing in, in January 2024 and will end on December 31st, 2025.
Eligible candidates are members in good standing and have attended 50% of RMM meetings held during the last year. (or the last two years for the position of Airline Representative) If you reside within 50-mile radius of the RMM Locations (SeaTac) and have not attended at least 50% of the RMM meetings, you will need to complete a 10% membership signature petition to be eligible. The form for this petition is available on the website. (Auditors nominees are exempt from this requirement) All nominees will be required to verify their candidacy by completing and returning a Willingness to Serve Form, which will be emailed to each nominee by the AMFA Local 14 Secretary, following the closure of the nomination period. For more information regarding the Local 14 Election process, please refer to the Local 14 Bylaws, available on www.amfa14.org
In Solidarity,
Tommy Price,
425.902.3711
Download:

2023-2024_L14_Call_for_Nominations.pdf